Roofing Services
A Passion for Making Things Better!
Serving Eagle Lake, MN Since 2001
Get a 100% Free Estimate

Talk to our roofing team today during a free estimate.

Emergency Services Available

Roofing emergencies can't wait. Call for immediate help.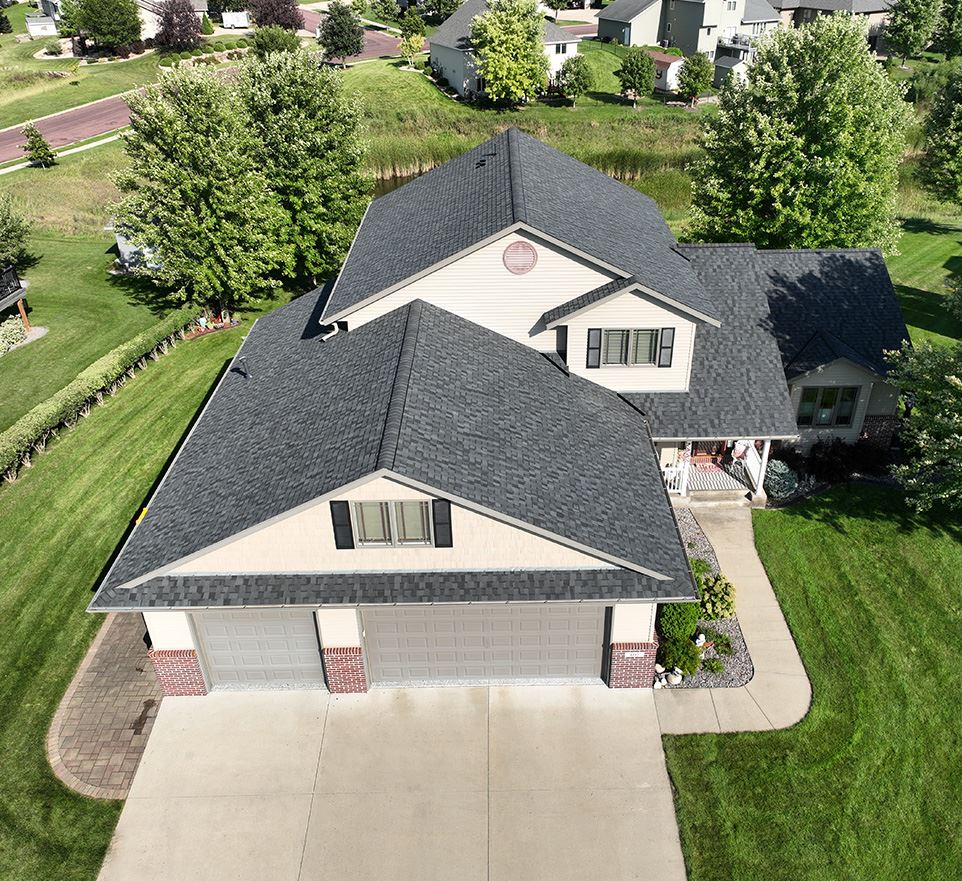 Mankato Roofing Services
Bauer Roofing & Construction has been serving all of Blue Earth County going back to 2001. Our Mankato roofing services cover inspection, repair, and installation. We work with both residential and commercial property owners.
The Roofing Professionals You Can Rely On
A roof is important everywhere, no matter where you live. But a roof in Minnesota's climate is unique. It has to be of high quality to withstand the extreme elements we often have to deal with. Bauer Roofing & Construction has been helping residential and commercial property owners alike make good decisions about their roofs.
Our success starts with customers knowing that our diagnoses and recommendations are trustworthy and rooted exclusively in their best interests. Our success has continued because our prices are fair. And our success will live on because of the reliability of our workmanship, something we back up with a guarantee of satisfaction.
Our Blue Earth County Roofing Services
Bauer Roofing & Construction does dependable and trustworthy work on a range of roofing needs, including the following:
Preconstruction Planning
A successful project in any field requires careful planning, and a roof is no different. What's more, preconstruction planning calls for consideration of a wide range of factors. This includes issues like zoning requirements, how the plumbing and HVAC system will impact the roof, and environmental factors. It involves reasonable estimations of timelines and budgets. Bauer Roofing & Construction has the experience necessary to ask the questions that need to be asked and raise the issues that need to be raised—in advance before they become problems during construction.
Call Bauer Roofing & Construction today at (507) 800-0533 or contact us online to schedule an appointment for all your roofing needs.
Our Services
How We Can Help You
Hear From Our Happy Customers
Reviews & Testimonials
At Bauer Roofing & Construction LLC, your satisfaction is our priority! See for yourself what our customers have to say about working with us.
"Great experience, we wouldn't recommend anyone else!"

Justin and his crew replaced our roof last fall (2022). Great communication with us on a schedule and completion of our ...

- Britney H.

"Bauer Roofing showed up when they said and did a great job."

Bauer Roofing showed up when they said and did a great job. In the last few years we have done several homes and they have ...

- Dennis T.

"Thank you for being part of making our house a home."

The Bauer roofing team came in so do our roof two years ago and did amazing work! They came in and finished the job and we're ...

- Tranace M.

"First class self made local company!"

I would recommend Justin and his crew for any of your roofing needs! His guys are professional, fast, and they cleaned up ...

- Derran D.

"Great service!"

Excellent return and inspection time! Reasonable rates, and easy to get ahold of, especially during the busy season in Minnes ...

- James D.

"Would recommend them!"

We had Bauer Roofing and Construction shingle our home. The work was done quickly and professionally. There was no mess left ...

- Mary B.

"Thank you!"

In and out the same day and the only thing they left behind was a great looking roof!!

- Kelly M.

"Fast and quality install!"

Great place! Installed early and owner was very professional. Fast and quality install!

- Tam G.
Commercial Roofing
The consequences of poor roofing in an office space can include diminished productivity and increased liability. A poor commercial roof can also negatively impact the resale value of the building.
Emergency Roof Repair
When the water is leaking through the roof, or the wind is blowing through one's home or office, there's no time to lose in getting a reliable pro out there to take a look and get the problem fixed. We're ready for anyone with emergency roof repair needs.
Roofing Repair
The sooner a dependable roofing technician can get out to a home or office building to take a look at a roof, the sooner the problem can be fixed, and the less chance there is of the problem spreading and becoming worse. Furthermore, Bauer Roofing & Construction helps our customers understand the telltale signs that roof repair is needed, so they can act quickly.
Call our office at (507) 800-0533 or reach out here online today to get a free estimate.